Your Antarctic Photo Cruise Itinerary – experience Antarctica in an unhurried, intimate way.
The 2014 Antarctic Photo Expedition Itinerary outlined below is only be a rough guide to what you will see and do while cruising along the Antarctic Peninsula. Your Antarctic Photo Expedition Itinerary will vary due to weather and ice conditions, making it impossible to fix a rigid plan.
DAY 1 -  USHUAIA
Arrive in Ushuaia via Buenos Aires or Santiago.  We will meet you at the airport and transfer to a hotel, go over the gear and spend one last night in the city for a soft start to the trip.
DAY 2-6 -  USHUAIA – BEAGLE CHANNEL – CAPE HORN – DRAKE PASSAGE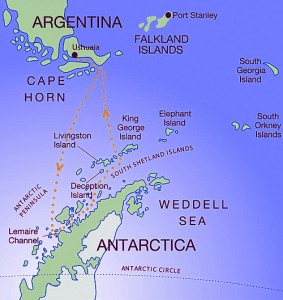 First meeting of your crew at the jetty of sailing club  – transfer of luggage to the yacht by dinghy, last shopping for the coming four weeks, paperwork to clear out – then sail east through the Beagle Channel and turn south through the Cape Horn archipelago. Weather permiting, we will sail directly across the Drake Passage for the Peninsula. On the other hand, if the forecast is for strong headwinds, or risk of storm, we will shelter in any number of three anchorages within the archipelago. If we are storm bound for a day or two while the system moves through, there are opportunities for long walks ashore on the rugged terrain of Tierra del Fuego.
DAY 8 & 9 -  HANNAH POINT
We made it – Relieved, we drop our reliable Bruce (anchor) – cabins get aired , the dinghy prepared, all ready for the first shore visit. Hannah Point situated at the south coast of Livingston island, has pebbled beaches and sandy slopes perfect for exploring wildlife – Nesting Gentoo and Chinstrap Penguins – Among them two or three couples of Macaroni penguins – Elephant seals in wallow areas – Blue Eyed Shags – Southern Giant Petrels – Kelp gulls and Skuas – Climbing the ridges, beautiful view over to Deception island – At times a Whale blow is visible – Beautiful icebergs float by
DAY 10 -  DECEPTION ISLAND
Spectacular sailing through the entrance into the "crater" of Deception Island – walks along the shorelines in Pendulum Cove – Whalers Bay – if weather conditions are right, who dares to bath in the hot thermal waters on the "steaming" shoreline ? Hike to Bailey's Head possible, with a visit to one of the biggest Chinstrap Colonies on the Peninsula.
DAY 11 -  CAPE HERSCHEL
Sailing through Bransfield Strait – having a peek into Cierva Cove crammed with spectacular icebergs on the southern side of Cape Herschel

DAY 12 -  PARADISE BAY
Big chance to see whales: Minke and Humpback Whales – They often come close to the boat – Chilean station Videla might be visited, as well as some champagne Coloured Gentoo Penguins (Colour mutation of the feathers) – Cormorant colonies – Dinghy cruises – Incredible scenery – Leaving Paradise bay, will we see our first Leopard seal basking in the sun on an ice floe?
DAY 13 – PETERMAN ISLAND
Lemaire Channel also nicknamed KODAK channel: very narrow channel with up to 1000 meter high rock faces, sometimes huge icebergs get stuck in the middle of the channel – Peterman Island: Circumcision bay – Gentoo and Adelie penguins nesting – Blue eyed shags – Refuge hut, historical features and scientific activities – Maze of islands, rocks, grounded icebergs south beyond Petermann island – Possible kayak tour
DAY 14 – PALMER STATION & ARTHUR HARBOUR OLD PALMER
If we are lucky, we get permission to visit the American base – very different set up than Vernadsky or Lockroy: thorough biology research – Aquarium – Krill tanks – Exchange with scientists, base workers. Visit ashore; mosses – Giant petrels, beautiful view on glaciers, Elephant seals wallowing – Visiting some of the monitored Adelie colonies, if Palmer gives permission for that

DAY 15  – PORT LOCKROY
We head north to one of the prettiest anchorages of Antarctica – Good chance to meet another yacht or cruise ship – Beautiful view on Fife mountain range – visit Port Lockroy (established in 1944 and operated till 1962, restored in 1996), historical site, museum under Antarctic treaty. Operated by the United Kingdom, the only postoffice in Antarctica. There is a boatshed and a number of artifacts on Goudier island and many Gentoo penguins. After being told to stay at least 10 meters away from wildlife, in keeping with Antarctic Treaty guidelines, we might be surprised, that the penguins do not stick to these rules, but stand practically on our feet and lay their eggs on the footpath up to the station. Visit to Jougla Point: Gentoo penguins, Blue-eyed shags, Kelp gulls, Antarctic terns, Skuas, Weddell seals, complete, rebuilt Whale skeleton

DAY 16 – NEKO HARBOUR
Located in Advord bay, named after a whaling factory ship that operated in this region 1911-1924 and frequently moored in that protected bay, a small bay with cobble beach. The glaciers in Neko Harbour are highly crevassed and regularly calve, quite a spectacle – Gentoo penguins, Kelp gulls and Skua breeding area, some species of moss, Argentine refuge hut. We then  head for Gamma Island, part of the Melchior islands – last opportunity for extensive dinghy tours – Preparation for the Drake – Water tank filled up – Dinghy deflated and packed away – Storm jib set – Lee cloth engaged – Sea legs prepared

DAY17-20  – DRAKE PASSAGE
We should see the passage with different eyes now; it's all that much more familiar – Sea birds accompany us again – We head for Cape Horn – How beautiful to see this cliff face again, scent of bushes, flowers in the air, impressive how the swell brakes on the rocks – No wonder this Cape has so many mysteries written about it – Tired, but happy we continue our journey north towards the Beagle Channel
DAY 21 – USHUAIA
Heading west towards Ushuaia dolphins welcome us back – Last sail across the Beagle – Sarah's sturdy mooring awaits us already – Packing – Paperwork for arrival of the boat with the Argentine authorities – Farewells